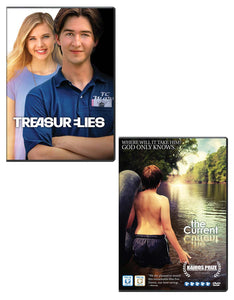 Get both movies for 40% OFF!
Treasure Lies - DVD
"For where your treasure lies, there your heart will be also."
- Matthew 6:21
Tired of missing out on normal teenage life, Sean uses the last few weeks of his senior year to break his trend of responsible living. A sudden financial windfall might be the key to getting everything he's always wanted. But will it pay off for him, or are there bigger things at stake?
The Current - DVD
Jake Larson (B. Bradenton Harper) is thirteen when his whole world is turned upside-down: He loves everything about his life in Chicago. That life changes dramatically when his parents (David Harper and Jana Lensing) decide to move the family away from city violence to a campground in rural Minnesota. To the rebellious young Jake, Minnesota seems like little more than loneliness, chores, and mosquitoes … until he meets Peter (Blade Yocum) -- the boy across the river -- and his dad (Dariush Moslemi). The two form a fast friendship that God uses to transform Jake's life in ways that Jake never could have imagined.