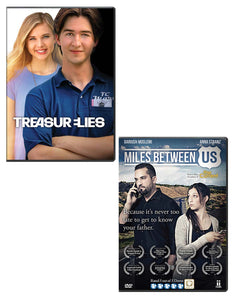 Get both movies for 43% OFF!
Treasure Lies - DVD
"For where your treasure lies, there your heart will be also."
- Matthew 6:21
Tired of missing out on normal teenage life, Sean uses the last few weeks of his senior year to break his trend of responsible living. A sudden financial windfall might be the key to getting everything he's always wanted. But will it pay off for him, or are there bigger things at stake?
Miles Between Us - DVD
It was twelve years after the divorce. Luke (Dariush Moslemi - The Current, Catching Faith) hadn't heard from his ex-wife (Kelly Morton) in over a year. Still, when the phone rang that morning, he had no idea how that call would change his life.
Luke and his daughter, Gabby (Stranz), were all but strangers. That phone call marked a new beginning and set them off on a journey more complicated than they imagined. It's a story of pain, hope, healing, and redemption.