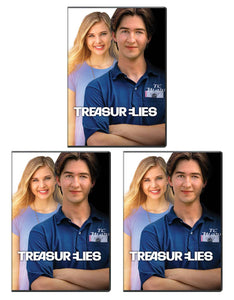 Get three copies for 50% OFF!
"For where your treasure lies, there your heart will be also."
- Matthew 6:21
Tired of missing out on normal teenage life, Sean uses the last few weeks of his senior year to break his trend of responsible living. A sudden financial windfall might be the key to getting everything he's always wanted. But will it pay off for him, or are there bigger things at stake?
What are people saying about TREASURE LIES?
"Treasure Lies will inspire you to do better, be better and live better."

"Lots of laughs and really drives home the importance of our daily decisions."

"Treasure Lies is a fun and meaningful film that challenges our character and conscience to break free from what this world values and cling to the freedom that Jesus gives."

"We loved the movie! It puts in perspective what is truly valuable and worth your pursuit."