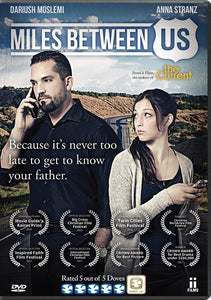 ii Films - producer of The Current (Winner of Best Youth Film at the 2014 Crown Awards) -- present newcomer Anna Stranz in this story of a father and daughter finding hope again, after divorce. What are people saying?
- "I LOVED "The Current." I LOVE, LOVE, LOVE "Miles Between Us" all the more."
- "Every family should see this movie."
- "The storyline is captivating, and all too realistic in our culture today."
- "In a world of broken families and relationships, it is good to know that there is hope."
It was twelve years after the divorce. Luke (Dariush Moslemi - The Current, Catching Faith) hadn't heard from his ex-wife (Kelly Morton) in over a year. Still, when the phone rang that morning, he had no idea how that call would change his life.
Luke and his daughter, Gabby (Stranz), were all but strangers. That phone call marked a new beginning and set them off on a journey more complicated than they imagined. It's a story of pain, hope, healing, and redemption.
- Winner Best Drama under $250,000 at the 2017 Crown Awards
- Bronze Award Winner for Best Picture at the 2017 Crown Awards
- Official Selection 2017 Big Cross Film Festival
- Finalist for Best Picture at the 2017 Christian Worldview Film Festival
- Nominated for Best Picture, Best Actress, Best Actor, Best Director, and Best Screenplay at the International Christian Film Festival
- Finalist for the Movie Guide's Kairos Prize for Spiritually Uplifting Screenplays
Rated 5 out of 5 Doves by The Dove Foundation